2014-15 Player of the Year Result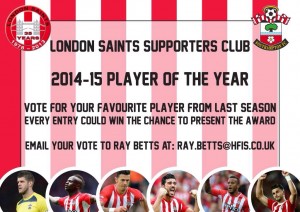 London Saints player of the year Result
Total of 40 votes cast with the clear winner being Jose Fonte with 22 votes. Runner up with 5 votes was Pelle with Mane getting 4, Bertrand 3, Forester and Morgan 2 each and finally Toby and Victor with 1 each.
So captain Jose deservedly romps home with more votes than the rest of the team put together. The way he stepped up to the captains job and even managed to make that donkey Lovren look like class player – hence getting us a £25m windfall from those stupid Scoucers!!!
Once we can locate the trophy at Morgan's place in deepest Southern France we will arrange for the presentation at St Marys with 2 lucky members to be drawn out to present the trophy to Jose.
Thanks everyone who bothered to vote. Cheers Ray
Become a Member
Become a member of London Saints from as little as £5.