EX-BLUES CC v LONDON SAINTS CC – At Ex Blues CC, West Wickham, Kent – Fri Sep 4th by Dave Thomas
Ex Blues CC 225 – 3 dec (Pearce 1-25, McIntryre 1-30, Shadick 1-27)
London Saints 99 (Griffiths 23, Thomas 20, Grimes 19)
Our final game of this very, stop-start, truncated season summed up our current struggles. The ten players we could muster up to turn out (and great thanks to all those who made it) averaged 55 years of age (4 of whom will be retired when Wath leaves Camden Council in 2 weeks) with our fastest bowler Mike McIntyre (well someone who bowled off more than 4 paces) having only just taken up the sport in 2013. Mike was our youngest player, being in his late 30's, and even he had a dodgy hamstring but what we lacked in youthfulness and agility we more than made up for in experience (as you can't win anything with kids).
One of the Ex Blues openers was wearing a helmet despite me telling him that he might not need it given that the new ball pairing was Tiger Pearce and Clive Dunn. Tony, perhaps starting to feel his mid-70's, struggled as they took a likening to his normally accurate bowling but Paul (having chosen to bowl downhill as senior LSCC spinner) fared better going for a relatively meagre 5 runs per over and achieving a breakthrough when our first wicket keeper Mayhew demolished the stumps for a stumping – although given how far Andy stands back to our pacey spinners, and the time he takes to get the ball back to the stumps, an argument could be made that it was actually a run out? Youngster McIntyre and Crockster Thomas were the first change bowlers and again were relatively tight but could not make the breakthrough against stubborn and solid batsmen who must have been wondering when they were going to see some faster bowlers as the pitch was slow and sticky after heavy rain in recent days.
The next pair to try their luck were Griffiths (after being punished by the punitive Il Duce for turning up late and being moved all around the field to whichever boundary the previous ball had gone to) who after one expensive over uphill came back with a very good spell downhill and our surprise packet – John ' Nice Pint ' Smith. Never let it be said that if you turn up for London Saints you won't be given an opportunity to shine but there were a few quizzical looks when the ball was thrown to John to bowl. John surprised us all, and probably himself and if his line was as accurate as his length, his figures could have been a lot better. It got better as the ex-full time Taxman Eric Shadick was brought on at the other end and the sight of Smith and Shadick bowling in tandem was a sight to behold and to be honest one that no one would ever have envisaged. It brought success with Eric's excellent flight deceiving the batsmen eyeing up his century and was caught in the deep by Mike for 85. Wath's bowling days I'm afraid are in the distant past and his ' experimental ' over to enable John to change ends drew no fruit and with the declaration near, Andy, who had swapped keeping duties with Eric, turned his arm over to no avail but was on hand to catch the last wicket to fall and give Mike a wicket in his 2nd spell.
Ex Blues declared at 225 -3 (with a further two batsmen having also retired) after 32 overs (it was a time game) as they would need enough time to bowl us out. They could probably have batted on and still won but thankfully they put us out of our misery early. To be fair we stuck at our task valiantly and did not let ourselves down in the field which was not easy in ever darkening skies. Nice Pint was our busiest fielder on the deep boundary as the ball seemed to follow him around all afternoon and apart from one howler early on, John came back to field very well to prove the old adage that life begins at 60. Catching was a different matter as John let a fairly simple catch go down off the skippers bowling which is not something to be encouraged but Il Duce must have mellowed over the years as John received nothing more than an admonishing look. Anyway the bruise and swelling of the bony part of John's hand was enough of a lesson. Your correspondent cannot remember of too many other chances to go down (if you ignore the fact that Neil failed to get his hands close to a skier which landed about two yards away as he lost the flight of the ball which was directly over his head) but am sure that others may correct this view. Lastly Andy would be very upset if it was not reported that the entire innings passed by without one bye – this may have something to do with pace of our bowling Andy and that most of our balls struggled to make it the full 22 yards and that a certain Mr Nanton was not playing, but nevertheless well kept!
Missing a number of senior players we didn't hold up much hope of reaching the target but were determined to put up a show and as a last straw the draw was also available if we could bat out what would have been 45 overs. Asking for a volunteer to open the innings alongside Johnny G a lot of faces suddenly looked down into their tea and chocolate cake. Then a bright spark came to Il Duce's mind, or was it a flash, to be honest he couldn't miss it as standing out amongst all our grubby whites (the effort of fielding or chasing the ball around a muddy outfield) was a vision of light – looking like an advert for Persil, Daz or Surf (after the wash) was Mr Persil himself, Neil Barry Hotston in his pristine whites, showing not one ounce of sweat or grime. Neil could either dazzle their bowlers or at least get up a sweat to look as though he had undertaken some form of physical activity today.
So the plan was set as our openers went out to battle. It didn't last long as the 13th (and unlucky for some) ball saw for Mr Persil's downfall without troubling the scorers, though he was unlucky as after playing the ball, it trickled back onto the stumps despite Mr Persil's desperate attempts to stop it. Ex Blues were almost embarrassed to celebrate the wicket but in true Steve Smith style the winning is all important. It brought Tony to the wicket and he performed much better with the bat than the ball until……… – there have been some famous run outs in London Saints history (mostly involving Andy M) as calling has not always been our strongest point with confusion over who should be calling or is the senior partner. Johnny G had been batting very well, scoring 23 out of our first 27 runs, and we were confident of a good start until………………… well I suppose when the father-in-law says run, you run, you don't think that your partner is approaching senility (in the running between the wickets sense), that there was never a run in the first place!, that you are the senior partner and that our only realistic chance of getting close to their target was for you to stay in for a long innings – no all those rational thoughts go out of the window, so when the elderly man who entrusted the safe keeping of his daughter into your hands says run….you run – and get run out buy miles! to a mixture of derision and confusion by his team mates on the sidelines.
It brought to the wicket The Wath, only 19 runs short of his 2,000th club run, and with his newish bat – so we all felt confident until we realised what he was wearing! Wath was late getting to the crease as he was making some last minute adjustments in the changing room and he charged passed us out into the middle. As we peered through the gloomy early evening light someone remarked " Is Wath wearing sunglasses ", incredulously we all came to the same conclusion that yes in the worst light that we had played in for ages, and with the sun not making an appearance in these parts for about a week, that yes Wath was attempting to take on the Ex Blues bowlers in shades! He was immediately christened Lennie after Lennie Peters in that famous 70's pop combo Peters and Lee due to his build, age and the fact that he normally bats like a blind man! Of course we had to explain to Mike (who was the only one young enough NOT to intimately know their back catalogue of hits) who Peters and Lee were (see below for other younger members of the audience) and we then proceeded to spend a very enjoyable few minutes reminiscing about our favourite 70's talent spotting and quiz shows – let's face there wasn't much going on in the middle. Not surprisingly, given the bad light and the shades, and after a few swishes Lennie Peters was bowled, soon to be followed by Tony who misjudged the spinner after a fine knock of 19.
This brought the skipper and last years' player of the year Mike Mc to the crease to replace the infamous 70's duo of Clive Dunn and Lennie Peters. Then in true old fashioned style the skipper rolled back the years and played a cameo innings of how not to pick a spinner much to the amusement of Johnny G who was umpiring at the other end. Mike also found it difficult as the spin attack from both ends were moving it both ways (and far be it for one to criticise but they were spinning it slightly more than our 7 strong spin attack). Just when the skipper had eventually worked out which way it was spinning (after dispatching a few to the boundary including his now regular 6 off those pesky spinners) he was bowled by the quick bowler who had been brought on. The change of pace also did, next ball, for Tiger Pearce who was bowled first ball for a golden duck (apparently he was inconvenienced by a bad back which also limited his fielding but as no one noticed any difference to Paul's normal fielding performance, that was a lame excuse).
Mike soon followed as a solid 81-4 became 88-7 and we were left with Andy and John ' Nice Pint ' to hold out for a draw. John has a limited array of shot selection but what he does have is good technique and guts to hang on in there against their pace attack from both ends in thankfully better light – the sun even made an appearance – perhaps Lennie was just thinking ahead? John and Andy entered the last 20 overs and looked solid if unspectacular and looked if they could bat all night and come away with a draw. To be honest watching 5 overs of dot, dot, dot and block, block, block was good and admirable in its own way but to do it for the full 20 overs would have driven everyone to despair and wouldn't have been in the spirit of our past tussles with Ex Blues. So great as it was for a short time we weren't that upset when John's resistance finally came to an end as there are deserving draws and not deserving draws – and this would not have been one of the deserving kind – and anyway the bar was open. Eric went in last man and in the true spirit of London Saints, after John's dogged resistance, was out next ball for a golden duck and the end of the game.
We did explain to Ex Blues before the game the limits of our team and, to be fair, overall a good game ensued with everyone getting involved and enjoying themselves. In the bar afterwards we explained the struggles we are currently having and that we are looking to cut back drastically on our fixtures next year but they were very insistent that this fixture remains as one of our games as they enjoy it (I suppose it doesn't harm their averages either) and we are a social lot and stay in the bar – so long may it continue as we have always enjoyed our games with Ex Blues over the years and in Stuart their skipper they have someone who plays the game in the right spirit and tailors his team to our strengths or more relevant now our weaknesses.
Man of the Match: No one really stood out bowling or batting so for his overall performance (being a magnet to the ball when fielding, his surprisingly accurate debut bowling and for his dogged batting, the award goes to John Nice Pint Smith (Ex Blues have a most improved player of the year award and John would be a worthy winner of that for us this year). John spent the morning getting inspiration by visiting the local graves of WG Grace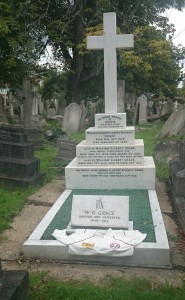 and Thomas Crapper –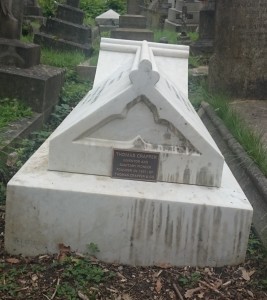 the first grave obviously inspired him today – we didn't ask if the 2nd one had a similar ' effect '
Champagne Moment: Many contenders today so have decided to go for two as there have been so few games this season and will give a greater choice for the end of season award. Neil's ' nearly ' catch as the ball looped towards him as he spun around trying to locate it whilst it landed two yards from him as he looked the other way (he should have borrowed Lennie's shades). The Skipper attempted to stop a ball that was heading for a 6 with his ankle bone getting all tangled up, when hands would have sufficed, in true Steve Scones style – the crack was so audible that even the batsman stopped running and asked over the skippers well-being – thankfully not broken only badly bruised – prat. The Smith-Shadick partnership – Eric's bowling in getting his debut LSCC wicket, John's dogged batting and finally the sight of these pair of sexagenarians bowling in tandem. The two winners though are firstly Clive Dunn running out his son-in-law (JUST SAY NO) and the sight of Lennie Peters walking out to bat…..and then batting like ….well Lennie Peters
NB For our younger audience – Lennie was born Leonard George Sargent on 22/11/31 and was half of the famous 70's pop combo who found fame by winning a record 7 weeks on Opportunity Knocks. Their most famous song was ' Welcome Home ' which sold over 800,000 singles (for even younger members of the audience – a single was a 7 inch piece of circular black vinyl with a hole in the middle, which people, in the days of black and white, used to stick on a thing called a turntable and from which sound emerged) followed by ' Don't stay away too long ' and the classic ' Hey Mr Music Man '. Their first performance was supporting Rolf Harris (the less said about that the better) in Bournemouth on 30/04/70. Lennie was an uncle of Rolling Stones drummer Charlie Watts and there were rumours about his connections with organised crime – he died in 1992 aged 60.
Ex Blues
Loughlan ct McIntyre b Shadick 85
Barham st A.Mayhew b Pearce 21
Collins retired 36
Ford retired 50
Stocks not out 20
J.Dilley ct A.Mayhew b McIntyre 1
Extras 12
Total 225 – 3 dec
Pearce 5 – 0 – 25 – 1
Grimes 4 – 0 – 31 – 0
McIntyre 6 – 0 – 30 – 1
Thomas 4 – 0 – 10 – 0
Griffiths 5 – 0 – 26 – 0
Smith 3 – 0 – 26 – 0
Wathan 1 – 0 – 19 – 0
Shadick 2 – 0 – 27 – 1
Mayhew 2 – 0 – 19 – 0
London Saints
Griffiths (RUN OUT DUNN) 23
Mr Persil b Dilley 0
Grimes b Collins 19
Lennie Peters b R.Harris 7
Thomas b A.Harris 20
McIntyre b R.Harris 7
Pearce b A.Harris 0 (GOLDEN)
Mayhew not out (again) 11
Smith ct ? b Barham 4
Shadick b Barham 0 (GOLDEN)
Become a Member
Become a member of London Saints from as little as £5.