Match day: an untimely ending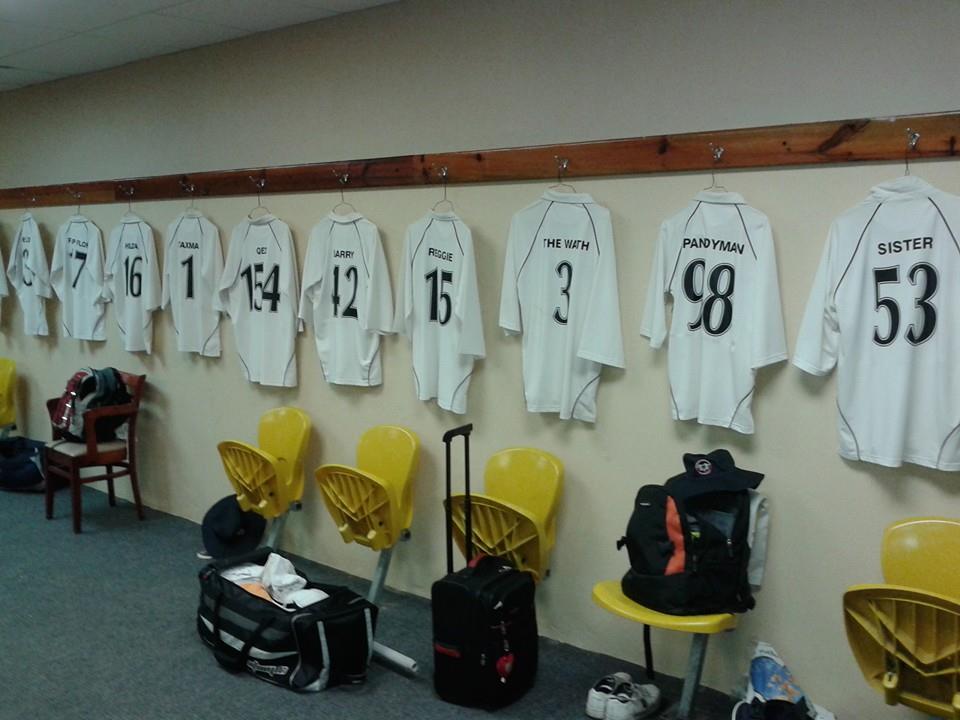 By Steve Keenan
Queen's Park CC v London Saints
Queen's Park Oval, Port of Spain, Trinidad
35 overs
The game was abandoned after 5.3 overs when QPCC opening batsman Peter Clerk collapsed and later died in hospital.
He was 49, and we had never met him until he walked out to bat at 11.30am today. Two hours later, he was dead from a heart attack. But not before he had hit his first ever six at the QP Oval, the club's Test ground home in Trinidad.
His team mates told us that statistic later this afternoon, as they looked for positives in a dreadful day. Rum bottles were being passed around, as a death is traditionally marked in Trinidad. And we were happy to provide a slender silver lining – many cricketers have passed personal milestones against London Saints CC.
We learned a great deal about Peter this afternoon. He left a wife and three teenage children. He had a history of heart trouble. He was not due to open the batting today. And he had never hit a six at his home pitch.
The game today was to have been the highlight of a tour that has taken 14 months to plan. That's gone. But most of us will now be going out on a boat with his team mates tomorrow to, well, get drunk, make each other laugh, talk about fragile life and cricket and learn more about Peter.
And we shall talk about plans born today, fuelled by rum, on how to commemorate today. Possibly a return to play another day. We may or may not. But we won't forget today for a very long time – and it will be marked.
John Quinn was one of our two opening bowlers today. He has written a personal eulogy, posted here:
JOHN LENNON
I'm typing this more slowly than usual, with a digit less, having two strapped together, after breaking one trying to catch the opening bat off my own bowling.
Please don't feel sympathy for me.
For in the next over, as I was getting treatment, an opposition player suffered a heart attack and subsequently died.
How can you admire some one so much but hate what they say, or, in this case, sang, as I do at this moment, John Lennon?
His line 'Life is what happens to you while you're busy making other plans' has never been more apt.
Our day could not have started better: a big and healthy breakfast followed by a short cab ride to the Queen's Park Oval, a ground that is to feature yet another Test Match in its glittering history, in a couple of weeks.
A day of so much promise, of so much expectation.
A lovely, loving tour of the building and its museum by its curator increased our sense of it's history and made the team suitably intimated by the occasion.
Dave Thomas, as usual, prior to the game, found the appropriate words when he thanked the curator and the MD of the ground, stating simply, eloquently and with great exactitude: 'Playing here is the highlight of all our careers.'
Everyone nodded.
The opening overs featured the normal mix of London Saints' wayward and testing deliveries, wides, boundaries and dropped catches.
It was the sixth over when the insightful half of the Lennon-McCartney duo's lyrics came back to haunt.
As Pete Berkeley ran in to ball the opposition's batsman, Peter Clerk, fell to the ground, suffering, what we were later to discover, was a heart attack.
Despite the immediate intervention of Sheila and her nephew, a final year medical student in Trinidad, and, within minutes, the full attentions and efforts of the doctors and staff of the St Clair Medical Centre, he could not be saved.
I was waiting in the same hospital for attention to my broken finger. I've never felt more of a fraud as the family and loved ones of Peter arrived at the hospital.
The crying and outpouring of emotion was difficult to deal with.
But much worse was the silence. The biting of lips and evasion of eye contact. For it spoke more than a neon sign, more than tomorrow's headline that our opponent had played his last game.
I'm treated, X-rayed, strapped and sent on my way. Normally I would have the right to feel cheated: missing the final game on tour in two days; and tomorrow's golf.
Instead I'm elated and distraught; who said life was black and white, certainly not Mr Lennon.
Sheena & I walk the 200 mtrs back to the ground, mumbling vague platitudes to the cricketing colleagues of the deceased, and, unusually, lost for words to say to his family.
The national flag and the LSSC's banner, so recently fluttering proudly on the ground's elegant flagpoles, are sadly limp at half-mast.
Back at the bar there is a lively hubbub of noise. It is not from the LSSC contingent.
Apparently it is a tradition to buy a bottle of rum and drink it on such an occasion. From what I've witnessed during the last 2 weeks it is a tradition that applies to too many occasions in the Caribbean!
But today it helps.
We talk in cliches and gallows's humour.
But the truth is that a 49 year old – younger than most of our team – a fellow cricket lover, has died, doing what he enjoyed. We are saddened and his family and teammates are shocked.
Not because we have been reminded of our own mortality.
Because? Because, just because…
But I can't leave it here, so I go online to find the quote I think I know.
Instead I find:
"Death never comes at the right time, despite what mortals believe. Death always comes like a thief."
― Christopher Pike, The Last Vampire
Become a Member
Become a member of London Saints from as little as £5.