Golf in class in the Caribbean
By Steve Keenan
Ten LSCC squad members took time off cricketing duties to spend the afternoon at the Magdalena Grand Beach Resort, which six months ago took ownership of the surrounding Tobago Plantations course.
There's been a long drought in Tobago which, typically, broke on the day we flew in. But it's obviously good news for the resort which is looking to get the course back to its best.
It was a tough, very tough undulating course, designed beautifully to force us to play long and straight. Which of course we didn't. The winner of the Stapleford format won it with 26 points – you'd normally expect 39-40 to take the trophy.
But it was a lovely afternoon. The resort kindly provided lunch and buggies, pointed out where the caimans (alligators) were (Colin and Colette and new offspring lived in the lake closest to the clubhouse), told us about the iguanas and warned us about the southern lapwing birds. Which was just as well.
It's breeding season and the birds don't take kindly to golfers wandering around near their nests. So they will divebomb golfers, much like seagulls. But while the lapwings don't strike, they fly direct at you at speed before veering off with a loud cackling – check out this video of Andy Jones taking evasive action .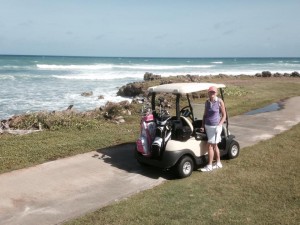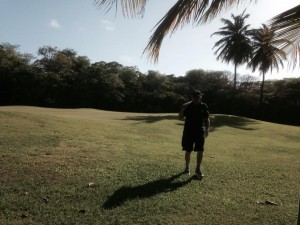 Extraordinary. As was the course – the 3rd leads you straight to the rolling Atlantic surf, the 7th past pristine mangrove swamps. It used to be a coconut plantation and palms are still plentiful. Greens fall and rise, water hazards trapped most of us and the shadows grew long – you can't rush this course in four hours.
The hotel is putting in an irrigation system to keep it lush and green throughout the year and will no doubt be making further improvements as it looks to build its reputation. There is only one other course on the island.
We loved it, especially Peter Rattue, the lowest handicapped and the winner. Second was John Quinn (24) and third, Pete Berkeley (20). Very many thanks to Magdalena for hosting us and to Limelight Travel for arranging from its London office. We'd go back like a shot – and know a bit more about what to expect…
Become a Member
Become a member of London Saints from as little as £5.