Match report: Callapso 1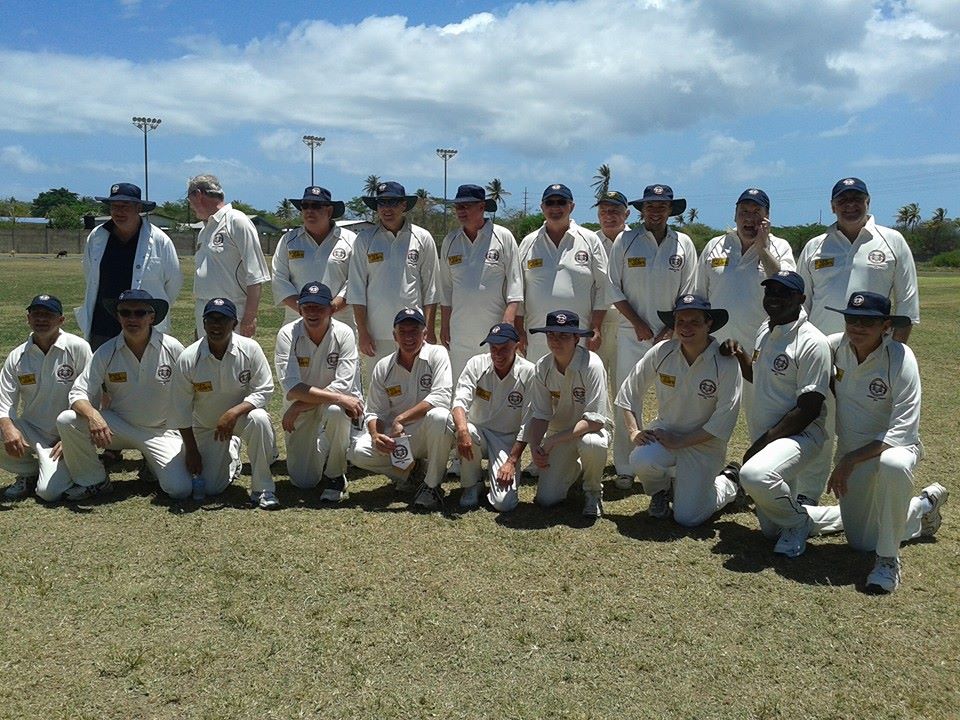 Report by Andy Jones
Full of expectation, London Saints team arrived in two minibuses at the Bon Accord sports ground on, unfortunately, the hottest day of the tour so far.
The ground, with its small grandstand, was being used for children's football training when we arrived. A TV camera was being set up – to film more footage for the documentary "Dave Nanton – a week in the life of a jet-setting cricketing legend (and part-time comedian)".
Being near the end of the dry season, the ground was parched and cracked in places.
The batting strip was muddy with a few dips. It took the London Saints inspection team a while to realise that one dip was from a bowler's follow-through halfway down the strip – which increased the sense of foreboding as we imagined the giant fast bowler who would have made them.
But concerns about C&B's bowling attack were put aside when the toss was replaced by DT arranging for us to field in the heat of the Caribbean sun for three hours, on the basis that it would extend the game by about two hours (a prediction that later proved to be pretty accurate).
With memories of a punishing first over of the Sri Lanka tour in his mind, a nervous DT began the innings with two full tosses, both of which were blasted to the boundary by C&B's grateful opener Cruickshank.
LS feared the worst and, two balls into the match, there were already mumblings about conceding over 300 in the 35 overs
The skipper's third ball was better (it pitched!) but Cruickshank, with his tail up, creamed a beautiful cover drive off the middle of his bat which hurtled towards the boundary – only for Nanton to launch himself and take a sensational diving catch to a huge roar from the grandstand. Some say that he even managed a wave to the camera as he flew through the air.
The mood lifted immediately.
The hosts had barely recovered when Johnson was caught behind by Speedtwin for 6 off the bowling of Richardson to make it 23-2.
Potts and Steyr then brought the score to 50 before the dangerous looking Steyr blasted a steepling off drive only to be brilliantly caught by Griffiths on the boundary to make it 50-3.
And as the tourists grew in confidence Potts was out soon afterwards – another huge hit well caught by Barber at long on to make it 68-4.
Crucially though this signalled the start of a change of fortunes as the heat began to play its part.
C&B continued to hit the ball hard but London Saints – despite DT doing his best to keep everyone fresh with frequent rotation of the 18-man squad – began to wilt.
There followed seven dropped catches.
Crucially Alexander was dropped four times, and from a shaky start scoring in singles he went on to change the match, battering an unbeaten century in an explosion of boundaries which included eight sixes. His first 11 scoring shots told the story – 1,1, 1, 1, then 6,4,6,4,6,1,6.
C&B raced to 131 before the next wicket fell – Arthurs bowled by Griffiths for 27 as the bowler claimed a wicket maiden among the mayhem to the amusement of Arthurs' teammates. He was heard to say as he walked off: "It was the bowling, man, it was so slow I didn't know what to do with it."
The following batsmen weren't so bamboozled by the Griffiths spin and he conceded 19 and 17 off he next two overs, before playing a part in another London Saints highlight. He claimed his second wicket when Harry Richardson produced a brilliant juggling catch on the mid-off boundary – eventually holding on to a bullet of a shot on the fourth attempt to the cheers of the entire grandstand.
As the strong sun continued to take its toll, Jones and Bristol continued the onslaught until the C&B innings mercifully closed after 35 overs at 281 for eight.
Lunch of sandwiches, banana and coconut sweetbread and nut loaf – and a few gallons of water – followed.
With a target of eight runs an over, London Saints set about the task of f scoring at more than eight an over to claim victory(!).
However, the opening bowlers were quick and accurate and Jones was first to fall, the first of ten LS players to be bowled.
Griffiths hit three fours but wickets continued to tumble and after 15 over the score was 50 for five – still not completely lost as C&B were 84-4 at the same stage.
What the tourists needed was an Alexander but, to no one's surprise, nobody could fill his shoes.
The long London Saints tail – more in terms of number of players (13) than ability – did wag a little however, with Ramdial and Richardson joining Griffiths as the only players to reach double figures.
There was one last cheer just before the end as the hundred came up, but the contest was finally over when Burrell strengthened his hold on the Duck Trophy with a hard fought three-over 0.
The innings closed at 102 all out, with extras once again the top score with 30.
MAN OF THE MATCH: On a difficult day for London Saints there was only one clear candidate, who did his bit with the ball, in the field and with the bat – HARRY RICHARDSON. Whether he will still be able to put in such a performance after the 40 years of drinking he has ahead of him as a London Saints player remains to be seen.
CHAMPAGNE MOMENT: Most of the highlights, in terms of the on-field activities, all happened in the first 45 minutes of the game when London Saints were all feeling fit and before the effects of the hot sun had set in. All were excellent catches – Griffiths and Barber both held towering shots on the boundary, the previously mentioned fantastic juggling catch by Harry Richardson and Speedtwin's take behind was also worth mentioning in dispatches. But the stand-out moment was DAVE NANTON's stupendous diving catch on the third ball of the game. The fact that he had also arranged for TV cameras to record it was a little suspicious. It will be interesting to see if the subsequent three easier chances that he dropped will make it to the promised edited highlights of the game.
SPECIAL MENTION: C&B were wonderful, friendly hosts – gracious and generous with an endless supply of cold drinks and tasty food. It was just a pity we did not give them a more competitive game (after the bright start).
The scorecard read:
C&B SPORTS CLUB v LONDON SAINTS at Bon Accord, Tobago on May 24, 2014..
C&B SPORTS CLUB
Cruickshank c Nanton b Thomas 8
Potts c Barber b Berkeley 14
Johnson c Speedtwin b Richardson 6
Steyr c Griffiths b Berkeley 24
Arthurs b Griffiths 27
Alexander retired 100
Cunningham b Keenan 0
Daire c Richardson b Griffiths 25
Jones not out 38
Bristol not out 19
Extras 21
TOTAL 281 for 8 (35 overs)
Bowling:
Thomas 4-1-22-1
Richardson 6-0-31-1
Berkeley 3-0-14-2
Nanton 3-0-18-1
Burrell 4-0-31-0
Quinn 4-0-12-0
Keenan 3-0-14-1
Griffiths 3-0-39-2
Rattle 2-0-35-0
Barber 1-0-20-0
Ramdial 2-0-31-0
LONDON SAINTS
Jones b Cunningham 1
Griffiths b Steyr 16
A Mayhew b Jones 3
Hotston b Steyr 1
Wathan b Jones 8
Chalmers b Jones 1
Barber c Johnson b Steyr 6
Rattle b Jones 0
Ramdial c Williams b Jones 12
Berkeley b Jones 9
Nanton b Williams 0
Richardson not out 16
Burrell b Williams 0
Extras 30
TOTAL 103 for 12 (28 overs)
Bowling:
Bristol 4-0-21-0
Cunningham 7-4-8-3
Jones 6-1-16-4
Steyr 7-1-18-3
Williams 3-0-21-2
Cruickshank 1-0-5-0
Become a Member
Become a member of London Saints from as little as £5.