LSSC Caribbean tour: Day 3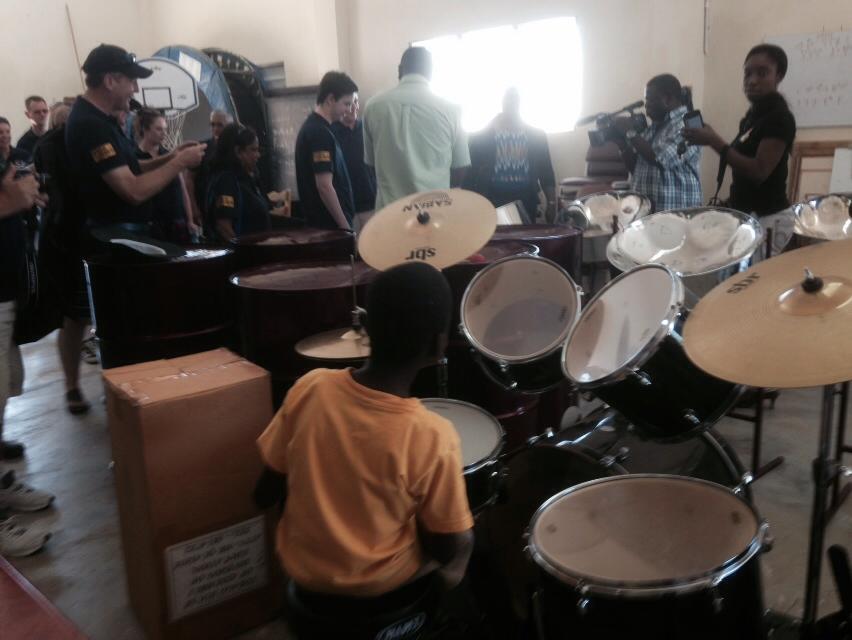 A split in the party for delay three, with one group opting for what sounded to me like an exercise in driving a jeep as fast as possible through a nature reserve. I'm sure it was kinder to the environment than that, but more anon.
The rest of us attended the tour's first official event: presentation of money raised for the Happy Haven school for special needs kids. Even if I say it myself, the group looked splendid in their tour polo shirts (sponsors Bright Spark please note), which was just as well as the local TV news crew were filming the event (again, Bright Spark please note).
The speeches came after we had been guided round by the Principal and one of the governors, and pieces to camera then followed. DT, naturally, was assured but marred his performance by forgetting that we were on Tobago, not Trinidad. No problems though for our youngest tourist, nine year old Molly Rattue, who was word perfect. The item broadcast on the evening news concluded with a shot of Molly bashing away on a steel drum – brilliant.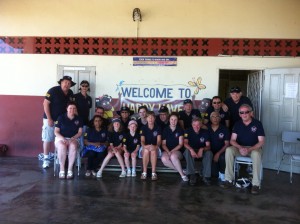 Meanwhile, back on safari, Nick Head reports… "Ten intrepid explorers set off to the middle of the island in search of snake infested forests and the alligator swamps and we were not disappointed. We headed off for the highland waterfall passing the appropriately named Mount Thomas – where a half hour trek from the nearest road led us to the waterfall for the London Saints flag to be duly photographed. Special mention to Reg who after keeping his camera dry all the way there forgot to take a photo.
On the way we sampled the sweet apple many thanks to one of the guides who climbed the tree to get them. We then went to the Hillsborough Dam and reservoir, only accessible for a couple of months a year, and spotted the deadly alligators unfortunately Where's John refused to act as human bait. After this we visited the site of an old sugar cane factory which rather alarmingly had a pair of trainers hanging from a tree on the approach. On the way back we passed the Dwight York stadium which unfortunately is hardly ever used due to its small capacity."
Just as our latest set of members were arriving in the evening, the local Mr. Fixit turned up to say that some turtles had been spotted coming ashore to nest, and were we interested in seeing it? Sounded like too good an opportunity to miss, even if his asking price was steep – although the view that 'once you've seen one turtle, you've seen them all' was also expressed. Anyway, half an hour later, those taking up the offer arrived on the beach where two leatherback turtles, one a particularly enormous beast, were going about their maternal business, supervised by conservation volunteers and gawped at by sundry onlookers literally a foot or so away. TV programmes give the impression that this all takes place in nicely secluded areas, but in reality there was a well lit apartment block 100 yards away, and the floodlights from an industrial installation across the bay added to the modernity of this latest episode in nature"s great cycle.
Become a Member
Become a member of London Saints from as little as £5.