Legends Night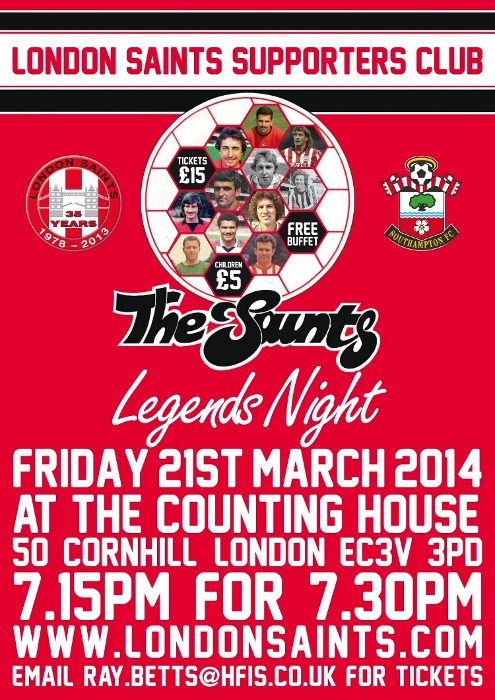 We are delighted to announce details for our forthcoming Legends Night, featuring many former Saints players for a Q&A and anecdote-sharing session followed by a fundraising memorabilia auction and an opportunity to meet the club's former heroes and get autographs and have photos taken.
Currently confirmed Ex-Saints in attendance include Francis Benali, Dennis Hollywood, Jim Steele, Hughie Fisher, Reuben Agboola, Graham Baker, Manny Andruszewski, Tommy Hare, Mike Earles, Brian O'Neil, Wes Maughan and Tony Godfrey, with more stellar names to be added between now and the night of the event.
We have once again managed to secure the function room in the Counting House pub on Cornhill (nearest Tube station is Bank) on Friday 21st March, with the Q&A session starting at 7:30pm. Places at this intimate venue are strictly limited, so tickets for the event will be available on a first-come, first-served basis from LSSC Sports and Social Secretary Ray Betts, priced at £15 for adults and £5 for under-16s, and include a free buffet.
Fundraising from ticket sales and the memorabilia auction is in aid of members of the Southampton Young Carers Project, with the Ex-Saints group intending to take a group of 40 young carers – who never have opportunities for a holiday or social outings as they are caring for sick or ill parents – on a trip away. They are aiming to raise more than £5,000 in total, and we are hopeful that London Saints will be able to contribute significantly to this worthy cause.
Become a Member
Become a member of London Saints from as little as £5.