Cricket Tour Update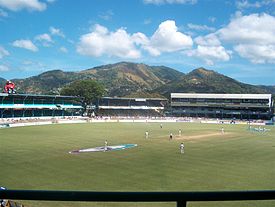 Things are moving fast, and in order to secure our base in Tobago (the Toucan Inn) we need to pay a deposit.
We had a great initial response of interest with 31 names but our potential difficulty is that the Toucan Inn can only accommodate up to 40 people (20 rooms) so we are going to have to book initially on a first-come, first-served basis – the sooner you get your deposits in, the sooner you secure your place. Obviously if we do get more people than places then we will book additional places at B&Bs in the vicinity.
We've managed to get a fantastic price of £834 for 14 days. We are very happy with the Toucan Inn as our base in Tobago but are looking at better accommodation in Trinidad than originally offered us. Taking into account this, plus the cost of tour shirts and caps, transfers and the cost of the cricket and coaches (the transport kind, not the teaching kind which will be of no use at our age), we are confident of getting the whole package for around £1,000 for 14 days and £850 for a week, going out on Wednesday 21st May on chartered Monarch flights.
If you wish to fly out at the weekend (Saturday 24th May, the start of school holidays in the south-east) for a week on scheduled flights (4 nights in Tobago, 3 in Trinidad) then the price will be around £300 more.
The deposit amount is £150 per person to secure your place. For anyone bringing children, a total deposit of £300 will suffice which will cover two adults and one or two children.
There are a number of ways to pay, and Nick Head, our Treasurer, has set up a separate bank account. For details please email me.
We are also thinking of raising money, as we did for Sri Lanka, for a good cause such as the Brian Lara Foundation – so any other ideas or volunteers to help will be gratefully received.
Become a Member
Become a member of London Saints from as little as £5.