Handicap to everyone's benefit!
Those unfortunate enough to have played golf against Sheena Quinn in any of the LSSC competitions will know that the word 'bandit' and Sheena go together like similar width vertical red and white stripes.
Those same people will be unsurprised to note that she has won about half the weekly competitions she has entered since joining the club at the Southampton Municipal Golf Course next to the Sports Centre.
The good news is that the same august body has decreased her handicap again from 26 down to 21 this summer. It least the rest of us (excluding me, on grounds of not wishing to enter the realms of celibacy) have a chance of now beating Sheena 'El Bandido' Quinn Esq.!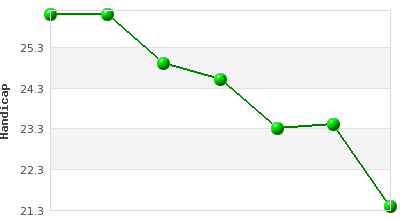 Become a Member
Become a member of London Saints from as little as £5.