Pompey 7 Saints 8!
Report by Ray Betts – who talks about the evening on Radio Solent at 10.10am on Saturday morning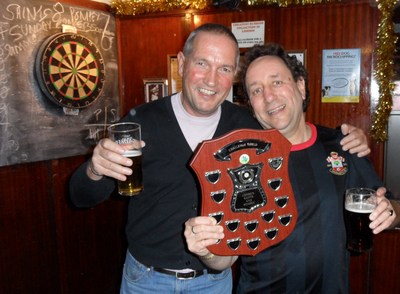 Another great night was had at the Royal Star in Old Street, London on Tuesday night – the 4th year of the challenge. And we've won the lot!
But it was another nailbiting night, with the evening's competitions going down to the wire – literally, on the last darts game of the evening. But to start the beginning….
Pompey Tony turned up with his motley crew to do battle and attempt to take that magnificent trophy off of us at the 4th attempt.
Nick Head kicked off the pool and looked like he's been beaten until Danny Skate potted the black along with the white ball. The 2 captains Reg & Pompey Tony were next up with Reg clearing up the last 4 balls to put us 2 up. With new comer Steve Grant losing his frame it was left to Chairman Mick & DT to redress the balance and then Smudge ground down Sarah le Skate to put us 5-1 up before Trigger let them back into it with some appalling pool play. So the pool finished up 5-2 to the good guys.
Darts was a different story with experienced dart team members Chairman Mick, Nick & DT all losing followed by newcomer Steve and Smudge to leave Trigger to redeem himself with a fine win over Michael Skate. Then the shock of the night, Captain Reg, universally accepted as the World's worst darts player played a sneaky trick, putting him against their best player thinking he was bound to win anyway so he might as well sacrifice himself as he was bound to lose anyway.
Well shock of shocks, Reggie only missed the board once in the match (a record for him) and then went straight out on double 14. Pete the Skate could believe it ( nor could anyone else including himself!!) So the darts ended up 2-5 to the Blue Few.
This made it 7 all going into the final Round Robin 1001 darts match. This was a very close affair but the Skates got to the double finish first. However despite about seven visits they could not finish us off and then with both sides locked on double 2, new boy Steve redeemed himself by throwing the winning dart to finish them off to wild "true London Saints fashion" celebrations.
So we retained the trophy for the 4th year running and Pompey Tony took his deflated Skates home, defeated again with only another hammering to look forward to on Sunday!
Become a Member
Become a member of London Saints from as little as £5.