Sheena does it again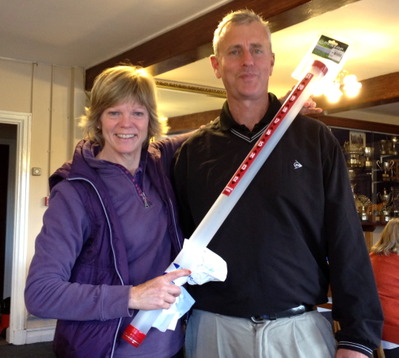 The woman formerly known as Sheena Quinn, now as bandido' retained her 'London Saints Masters' title. Sheena received the prestigious trophy from LSSC's favourite cabbie and organiser, Tom Henson.
Despite playing with a limp wrist, Reggie Betts picked up the runners-up prize having fallen over on the 9th hole (pnaah)!
Sheena's Uncle, Malcolm Matthews, is the man who nurtured such talent and he got in on the act by taking the 'nearest the pin prize'.
Sheena also won a rather phallic trophy for the longest drive (this should perhaps read as prize for the only ball on the fairway)!
Ex-Saints full-back, Roger Fry, received a prize for being the first ever person going into four figures for the Sports Centre course, but was great company as always.
A fine day had by all followed, of course, by Saints excellent win over The Hammers.
1st  Sheena Quinn 40pts
2nd Reggie Betts 32
3rd Richard Mallett 31
4th Tom Henson 30
5th John Quinn 26
6th Fred Betts 25
6th The Wath 25
8th Rosemary Henson 24
9th Malcolm Matthews 17
10th Roger Fry 9
Become a Member
Become a member of London Saints from as little as £5.